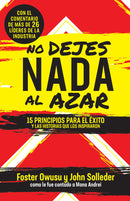 Description
Esta es la versión del libro electrónico. No Dejes Nada Al Azar está disponible en Amazon como libro de bolsillo.
CONVIÉRTETE EN UNA MEJOR INDUSTRIA VERSIÓN DE TI MISMO HOY Y NO DEJES NADA AL AZAR
Olvídate de lo que perdiste en el pasado. No puedes arreglar eso, pero puedes arreglar el hoy y puedes arreglar el mañana. Cada capítulo de No Dejes Nada al Azar moldeará tu vida hacia el éxito con el que siempre has soñado.
Independientemente de cómo definas los detalles de cómo llevar una "vida exitosa", tu objetivo subyacente es ser dueño de tu tiempo para que puedas ir por tus objetivos y concentrarte en las cosas que te hacen feliz; la felicidad es el objetivo principal para todos nosotros.
A lo largo de los años, hemos tenido el placer de trabajar con miles de personas. Ya sea que su visión del éxito incluyera sentarse detrás de un escritorio en la esquina de una oficina o poder tomar unas vacaciones adicionales cada año, el control y la libertad siempre jugaron un papel importante en la definición individual de llevar una vida exitosa.
Tú sabes lo que quieres. No estás seguro de cómo llegar. Incluso si no te conocemos personalmente, creemos que ya lo sabes. Por eso necesitas leer No Dejes Nada al Azar.
Payment & Security
Your payment information is processed securely. We do not store credit card details nor have access to your credit card information.