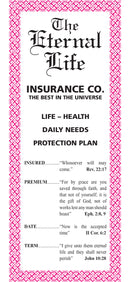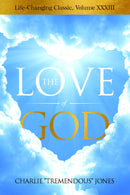 Description
PRICE INCLUDES 100 COPIES!!

ORDER NOW AND RECEIVE A FREE COPY OF OUR NEWEST RELEASE BY CHARLIE "TREMENDOUS" JONES TITLED, THE LOVE OF GOD!
IN THIS NEWEST LIFE-CHANGING CLASSIC YOU'LL READ ABOUT HOW TREMENDOUS CAME UP WITH THE IDEA FOR THE ETERNAL LIFE INSURANCE POLICY. 

Used for many years by Charlie "Tremendous" Jones, The Eternal Life Insurance Policy is an outstanding Christian tract that lays out the plan of salvation in the form of a life insurance policy.
As a new believer of Jesus Christ, working as an insurance salesman, it made the most sense to Charlie "Tremendous" Jones to share the good news of Jesus Christ with others through familiar language. He immediately sat down to write this Tremendous tract now available in packs of 100.
Payment & Security
Your payment information is processed securely. We do not store credit card details nor have access to your credit card information.