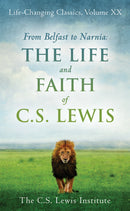 Description
Volume XX of Tremendous Leadership's Life-Changing Classic Series
Clive Staples Lewis, better known as "Jack" to his friends and family, made only a few trips outside of his homeland, Great Britain, and yet today he is known globally as one of the greatest minds of the 20th century. Through his timeless writings, he has touched and moved the lives of countless individuals in his time and beyond. In this brief introduction to his life and works you will uncover what inspired him, what drove him and what experiences shaped the life of this extraordinary writer, theologian and friend of God.
The C.S. Lewis Institute was founded in 1976.  In the legacy of C.S. Lewis, we develop disciples of Jesus Christ who will articulate, defend, share and live their faith in public and personal life. We're not a C.S. Lewis fan club, but rather hope to raise up thousands like Lewis who sought to live wholeheartedly as a disciple of Jesus Christ in all areas of life.   
Please note that the ebook option is a PDF ebook that is readable on any device that supports the PDF format. After checking out, you will receive an email with instructions for downloading your ebook.

Adobe Reader software may be downloaded for free AT THIS SITE.
Payment & Security
Your payment information is processed securely. We do not store credit card details nor have access to your credit card information.