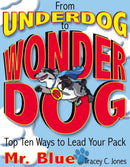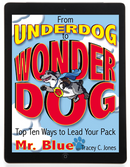 Description
The full-color children's companion to
True Blue Leadership: Top 10 Tricks from the Chief Motivational Hound!
What's the Difference Between a Wonderdog and an Underdog?
A Wonderdog Gets Bones...
...and an Underdog Gets Fleas!
It can be tough growing up. I should know! I used to be a pup just like you and boy did I have it ruff. I was lucky, though, because I had some great teachers (like my grandpaw Charlie "Tremendous" Jones) who taught me a lot of really pawsome things that kept me out of the doghouse and made me the pawsitive Wonderdog that I am today.
I'm furever barkful that I got the chance to learn those wonderful lessons—and that's why I want to share them with you. You're going to learn really important things like 
The value of work

How to get and give respect

What to do about a bully

How to look (and act) your best

The importance of learning

The power of enthusiasm

And other great lessons that can turn an underdog into a Wonderdog
Without these lessons, you might go through life chasing your own tail while scratching for fleas! You don't want that!
Learn these lessons and you can be a Wonderdog— and get all the bones and treats you want while you lead your pack!
*NOTE* Digital orders will receive a link to a zipped file including a PDF, Kindle and ePub version of the book. Once downloaded, extract all files and choose the one that is compatible with your e-reader. Enjoy!
Payment & Security
Your payment information is processed securely. We do not store credit card details nor have access to your credit card information.