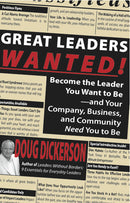 Description
Introduction by Don Hutson, co-author of the #1 New York Times bestseller The One-Minute Entrepreneur!
You Are About to Embark on a Leadership Journey Characterized Not by Your Limitations--But by Your Potential...
Doug Dickerson, author of Leaders Without Borders: 9 Essentials for Everyday Leaders, is a leadership consultant and motivational speaker. Doug spent more than twenty years in ministry and teaching. He is the director of Management Moment Leadership Services and his leadership column, published internationally each week, is recognized for its practical insights that inspire and motivate others to reach their full potential.
In this, his second book, Mr. Dickerson answers your questions about leadership, building a great team, and achieving your best at your job, for your Leadership, and in your community.
The world wants leaders. It needs leaders. That could be you. Explore your full potential and become the leader that you want to be--and that your company, Leadership, and community need you to be!
LISTEN TO DOUG DICKERSON ON TREMENDOUS LIFE RADIO!
Please note that the PDF ebook is readable on any device that supports the PDF format. After checking out, you will receive an email with instructions for downloading your ebook.
Adobe Reader software may be downloaded for free at this site.
Payment & Security
Your payment information is processed securely. We do not store credit card details nor have access to your credit card information.