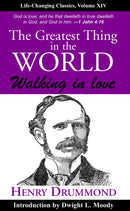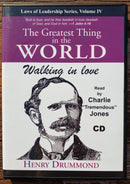 Description
And now abideth faith, hope, love, these three; but the greatest of these is love.
1 Corinthians 13:13
This classic book, written by Henry Drummond, illuminates the importance of 1 Corinthians 13. Widely read and quoted for decades, it has sold millions of copies and continues to influence people to follow God's two great commandments: to love God and to love each other.
When Jesus was asked, "Teacher, which is the greatest commandment in the law?" Jesus responded, "You shall love the Lord your God with all your heart, with all your soul, and with all your mind. This is the first and greatest commandment." And the second command is, "You shall love your neighbor as yourself. On these two commandments, hang all the Law and the Prophets."
If you are ordering the PDF ebook or audiobook, note that it is readable on any device that supports the PDF format or audiobook format. After checking out, you will receive an email with instructions for downloading your purchase. Adobe Reader software may be downloaded for free AT THIS SITE.
Payment & Security
Your payment information is processed securely. We do not store credit card details nor have access to your credit card information.