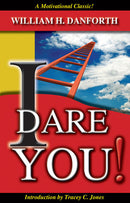 Description
I DARE YOU! by William H. Danforth
is a Perennial Motivational Classic
FROM THE FOREWORD BY G.M. PHILPOTT
Those of us who have been associated with Mr. Danforth in business know that this Dare idea works. Practically all of the leaders in his great organization were boys who came from humble surroundings and were dared by him to high accomplishments. He has dared most by his own daring example. Mr. Danforth gives the best that is in him, whether he is guiding a great industry, traveling in a remote corner of the world, shooting ducks or playing with his grandchildren. The day ahead is always the most thrilling day in his life. The job at hand is always the most important one he has ever undertaken. He never gives less than his best.
ABOUT THE AUTHOR
William H. Danforth (1870 – 1956) founded the Ralston Purina Company in St. Louis, Missouri. He co-founded the American Youth Foundation (AYF) to train young men and women in Christian ideals and help them prepare for a life of responsibility and leadership. As president of the American Youth Foundation, Mr. Danforth helped establish Camp Miniwanca, a 300-acre campsite near Shelby, Michigan that he established while he was president of AYF for the purpose of helping young people. For more than 30 years, up to the time of his death, Mr. Danforth spent his summers at Camp Miniwanca where he met, counseled and inspired thousands of young men and women. He also established the Danforth Foundation as a national educational philanthropy.
His passion for helping individuals to fulfill destiny stirred him to write I Dare You. The dominant message of the book proposes that, for an individual to be healthy, the four key components in life need to be in balance at all times—Physical, Mental, Social, and Religious.
Payment & Security
Your payment information is processed securely. We do not store credit card details nor have access to your credit card information.