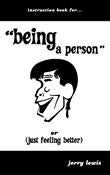 Description
Jerry Lewis on Being A Person....
It was 1962. I was at Paramount filming The Nutty Professor, a labor of love that transcended everything else I had ever done. One day I felt instinctively that there were minor rumblings among my crew. Backbiting and envy are two of the most destructive forces I know of. So I went home that night, sat down and wrote a tome—a small one, but a tome, on the benefits of being a person. I wrote down the words in a matter of two hours and had my sketch artist interpret what I wrote in sketches. Within one week I had the little book printed and bound and made up only 200 copies (my crew was a total of 185). I distributed the book to every member of that crew and it made a difference... and I created a small, worthwhile message to all who read it.
Payment & Security
Your payment information is processed securely. We do not store credit card details nor have access to your credit card information.