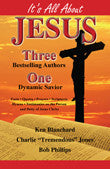 Description
Three influential leaders share the key to life that supersedes self

FROM THE INTRODUCTION:

The focus on self has become very popular during the past few decades. Just go to the self-help section of your bookstore or library and see how many books are written on the topic.
The coin of self-esteem has two sides . . . one can be Positive, Practical, and Productive; and the other can be Damaging, Detrimental, and Dangerous. For example, self-analysis can be good if it helps us to determine our abilities, establish an action plan for growth, or have an honest appraisal of our talent and skills. On the other hand, self-analysis can lead us to negatively compare ourselves with others. We do not all look like movie stars or top models. We do not all have the ability to be a top Olympic athlete or sports figure. We are not all brilliant students or talented musicians. We are not all wealthy and live in mansions, and vacation on yachts or on the Riviera. Comparison with others drives many people to develop a poor self-image and negative self-esteem.
Most people will admit that self-pity, self-doubt, and self-conceit are not healthy or beneficial. There are, however, traits of self that the majority of people view as positive and constructive such as self-control, self-reliance, and self-sacrifice.
We would like to suggest that there is something even more beneficial, healthy, and powerful than focusing on self: It is learning to look to Jesus.
That's the motivation for this book and the desire of our hearts: that we all may begin to turn from the focus on self to a focus on Jesus.

"It's All About Jesus is a brilliantly written book chock-full of inspiration and encouragement for those who want to live a Christ-filled life. Moreover, it's a joy to read."
—Paul J. Meyer,
Founder of Success Motivation International, Inc. and New York Times bestselling author
Please note that the PDF ebook is readable on any device that supports the PDF format. After checking out, you will receive an email with instructions for downloading your ebook.
Adobe Reader software may be downloaded for free at this site.
Payment & Security
Your payment information is processed securely. We do not store credit card details nor have access to your credit card information.