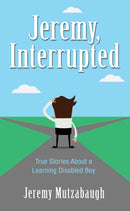 Description
"Your journey here can be a great adventure…
if you make it that way."
                               —Jeremy Mutzabaugh
Jeremy Mutzabaugh was identified as learning disabled (LD) at a young age. This designation did not stop him from graduating high school with honors, going on to complete a college degree, and achieving gainful employment.
This is a true story of a young man who knew exactly what he was and sought to develop beyond the label, surpassing his non-LD peers. In this book, you will find tremendous solutions to believing in yourself, silencing your critics, and living a life full of faith, love, and hope. Jeremy is a shining example of how we can all unlock the greatness within.
Payment & Security
Your payment information is processed securely. We do not store credit card details nor have access to your credit card information.