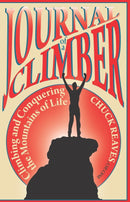 Description
It's Lonely at the Top... Because So Few Make It!
It's been said that life is a journey. Actually, it's more like climbing a mountain. Journal of a Climber describes that climb—and how you can conquer it.
Years ago, a lone climber discovered the route that took him from the foothills of Mount Majority to the summit of Mount Servanthood and beyond. He experienced the exhilarating triumphs of scaling Mount Achievement and Mount Success, and discovered the secrets that await intrepid adventurers on Mount Significance and Mount Wisdom. 
Click here to listen to Chuck Reaves on Tremendous Life Radio
Within these pages are the secrets that you need to know to retrace his steps through the pinnacles and ravines of your life, for the way isn't an easy one. For every mountain there is a valley, and the climber who scales the heights must also face the pits of despair in the Valley of Humility and the Valley of Failure.
While the paths are narrow and the cliffs are steep, you will succeed in your climb because Journal of a Climber is here to show you the way!
Click Here to get your own free Journal of a Climber map!
Payment & Security
Your payment information is processed securely. We do not store credit card details nor have access to your credit card information.