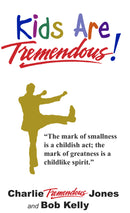 Description
Internationally acclaimed motivational speaker and author Charlie "Tremendous" Jones and award-winning author Bob Kelly combine their talents to present this charming look at childhood by some of history's most famous personalities. Funny, poignant, illuminating each quotation casts a bright light on those sparkling diamonds we call kids. Sometimes demanding, always questioning—kids are a constant source of joy to adults of all ages.
More than simply a collection of quotations, Kids Are Tremendous! includes some sound advice on how to turn your children, grandchildren, and other young people in your world into lifelong readers. There's even a simple contract form you can use to get them moving in the right direction.
The late Hodding Carter, journalist, and publisher, once wrote: "There are only two lasting bequests we can hope to give our children. One of these is roots; the other, wings." Give them both by instilling in them a love for reading.
Payment & Security
Your payment information is processed securely. We do not store credit card details nor have access to your credit card information.