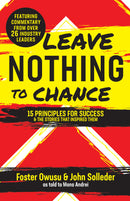 Description
This is the e-book version. Leave Nothing to Chance is available on Amazon as a paperback.
Become a better version of yourself today and leave nothing to chance.

Forget about what you've missed in the past. You can't fix that, but you can fix today and you can fix tomorrow. Every single chapter of Leave Nothing to Chance will shape your life into the success you have always dreamed of.
Regardless of how you define the details of leading a "successful life," your underlying goal is to own your time so that you can pursue your goals and focus on the things that make you happy; happiness being the ultimate goal for us all.
Over the years we've had the pleasure of working with thousands of people. Whether their vision of success included sitting behind a desk in a corner office or being able to take an extra vacation every year, control and freedom always played a big part in an individual's definition of leading a successful life.
You know what you want, you just aren't sure how to get there. Even if we don't know you personally, our guess is that you already know this. That's why you need to read Leave Nothing to Chance.
 Read this tremendous book review by Tom Oldershaw
BOOK REVIEW

LEAVE NOTHING to CHANCE, Authors Foster Owusu & John Solleder

INTRODUCTION
In reviewing the book, "Leave Nothing to Chance" there is a lot to gain
by Individuals involved in business and the MLM industry.
Certainly, authors Foster Owusu and John Solleder give much respect to
the MLM business model. An industry to quote from the book, "a 2018
industry overview conducted by the Direct Selling Association reported
that Direct Selling in the United States alone represents 35.4 billion
dollars in retail sales". Direct Selling is a lucrative industry that has
notably grown over the last few decades. There are some 60 million
sales consultants worldwide contributing over 114 billion dollars in
sales. It goes without saying that Direct Sales plays a large role in the
economic sector. It is clear, the majority, of people who get into direct
sales do not end up disappointed with their venture and that income
goals are fulfilled.
KEY CHAPTERS
The Key Chapters, Principles 1 to 15, in the book "Leave Nothing to
Chance" by authors Foster and John outline 15 Principles for Success.
The crucial importance of each Chapter or Principle has been explained

by Foster and John over the past weeks. Certainly, we won't cover all
the 15 Principles in this review.
To examine 2 Principles that I have implemented, both business and
life. Principle 1, Wake Up Excited for the Day – An Art and a Practice.
The Key ingredient to achieving any thing in life, especially goals is a
positive mental attitude. Waking up excited for the day has a direct
impact on the outcome of any day.
I have put in effect from this Principle an alarm set for 5:15 am, and
start my day with exercise at 6:15 am, consisting of stationary cycling
for 7.5 Km or about 5 miles, weights and finish in 1 hour, 5 days a week.
Principle 10, Train yourself to Think the Way Successful People Think.
As John states in the book, Successful people think and do what
unsuccessful people are not willing to think and do.
As I look to study this Principle the process of putting a plan into
execution involves reading and learning. Books include Leave Nothing
to Chance, Authors Foster Owusu and John Solleder, The Next
Millionaires by Paul Zane Pilzer, The Greatest Salesman In The World by
Og Mandino and Intentional Living, John Maxwell.

CONCLUSION
Foster Owusu and John Solleder definitely, in the book "Leave Nothing
to Chance" have written their legacy for the MLM industry. It is so
important to read the book, study and implement the experience of
both Foster and John. That is why you need to read "Leave Nothing to
Chance".
From: Tom Oldershaw
Dated: November 26, 2020
Payment & Security
Your payment information is processed securely. We do not store credit card details nor have access to your credit card information.