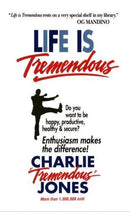 Description
Believing that enthusiasm makes the difference, Charlie "Tremendous" Jones shows how anyone can be happy, involved, relevant, and secure in the midst of a high-pressure, commercialized, automated society.  Learn all about the 7 Laws of Leadership as often discussed by Charlie in his motivational speeches which apply to business and personal life alike. Applying these principles to your own life will equip you to be an efficient and effective leader. 
Leadership is probably the most misunderstood word in our vocabulary today. Leadership is not personality. Leadership is not a position, nor is leadership endowed to a certain few. Leadership is that certain something that is "bought" with a price. Bought with a price that can be paid by anyone, anytime, anywhere and YOU are as much a leader today as you are going to be, because the price you are paying today is determining the leader you will be tomorrow. Everyone has an obligation as well as the privilege to lead at something. Leadership begins with a simple decision to pay the price and ends the moment you cease to pay it. The price:
Loneliness
Weariness
Abandonment
Vision
Book Review by Louis Sportelli, D.C.
One of the greatest books to ever cross my path is Life Is Tremendous, by Charles "T" Jones. I have given more than 500 of these books to patients and friends because of the humorous style. It is packed with the wisdom of the ages. Life Is Tremendous allows you to laugh at yourself, pray for problems, and learn how to establish the basic fundamentals of success... as a person.
Books are the silver of the mind. If left on the shelf, they tarnish, but if read, they give your mind the glitter of new ideas and the shine of a renewed motivation to solve the challenges of life and success. When a book like Life Is Tremendous is experienced and shared, the benefits are two-fold. First, to the receiver, in new knowledge and attitude; and secondly, to the giver, in knowing they have touched a person's life.
Laughter is what Life Is Tremendous promotes, along with an inspection of one's attitude. Perhaps the best way to describe what occurs was said by Victor Hugo: "I like the laughter that opens the lips and the heart, that shows at the same time pearls of the soul."
Endorsement by Don Green of the Napoleon Hill Foundation
"I own several copies and have read numerous times. You will be inspired every time you read it."
Payment & Security
Your payment information is processed securely. We do not store credit card details nor have access to your credit card information.