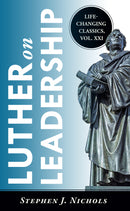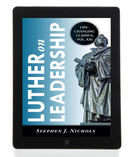 Description
Five hundred years ago, a stubborn and towering thinker named Martin Luther lodged his complaints against the church and launched a religious revolution that is still felt today. Luther's leadership enabled him to stand strong, despite being labeled a heretic and excommunicated. This volume in the Life-Changing Classics series outlines five leadership tenants of Luther, the man whose theological trajectory allowed millions to find a personal relationship with God. Learn how this seminal figure stood up for his beliefs and saw that truth was dispensed to the masses. Leadership is costly, lonely, and wearisome, yet Luther stayed true to his convictions and changed the course of history! Read what made this theologian a hero whose impact is still celebrated centuries later.
Stephen J. Nichols, PhD, is President of Reformation Bible College and Chief Academic Officer of Ligonier Ministries. He is the author of twenty books, including Beyond the 95 Theses, Jesus Made in America, and A Time for Confidence, and hosts the podcast Five Minutes in Church History. Dr. Nichols lives with his wife, Heidi, and three children in Sanford, Florida.
If you are ordering the PDF ebook or audiobook, note that it is readable on any device that supports the PDF format or audiobook. After checking out, you will receive an email with instructions for downloading your purchase.

Adobe Reader software may be downloaded for free AT THIS SITE.
Payment & Security
Your payment information is processed securely. We do not store credit card details nor have access to your credit card information.