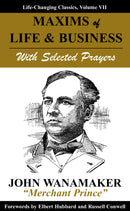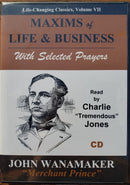 Description
With Forewords by Elbert Hubbard and Russell Conwell

Maxims of Life & Business With Selected Prayers is a dynamic book that encapsulates the life and wisdom of John Wanamaker with brief biographical information along with many of his wise sayings and fervent prayers.
You will discover the unchanging principles that motivated this innovative businessman who undoubtedly helped various inner cities and urban communities to thrive with great success during his day and time.
The wisdom of the millionaire "Merchant Prince" who was the originator of the department store concept will undoubtedly inspire you to live your life to the fullest and for the benefit of others.
It is not extraordinary circumstances or rich friends, or large capital, that create the golden opportunities of life. It is something in the person that thinks and gets an idea, and seizes the first possible moment to do what he can toward developing it.
John Wanamaker
If you are ordering the PDF ebook, note that it is readable on any device that supports the PDF format. After checking out, you will receive an email with instructions for downloading your ebook. Adobe Reader software may be downloaded for free AT THIS SITE.
Payment & Security
Your payment information is processed securely. We do not store credit card details nor have access to your credit card information.