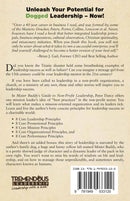 Description
Unleash Your Potential for Dogged Leadership – Now!
"Over a 40 year career in business I read, and was formed by, some of the Masters: Drucker, Peters, Porter, Collins, Lencioni et al. Never, however, have I read a book that better integrated leadership principals, business imperatives, cultural observation, Christian spirituality, and missionary initiative. When you finish this book, you will not only be wiser about what it takes to run a successful enterprise; you'll find yourself challenged to become a better version of your best self."~Brian J. Gail, Former CEO and Best Selling Author

Did you know the Titanic disaster held some breathtaking examples of leadership success as well as failure? Can you imagine a teenage girl from the 15th century could be your leadership mentor in the 21st century?

If you have been called to leadership in a non-profit organization, a church, or a ministry of any sort, these and other stories will inspire you to leadership success.
In Mister Buddy's Guide to Non-Profit Leadership, Peter Darcy offers one mission leader's idea of "best practices" in the non-profit sector. You will learn what makes a mission-oriented organization and its leaders tick. Learn and live the author's forty concise principles for leadership success in a charitable world:

• 8 Core Leadership Principles
• 8 Core Promotional Principles
• 8 Core Mission Principles
• 8 Core Organizational Principles, and
• 8 Core Performance Principles.

And there's an added bonus: this story of leadership is narrated by the author's family dog, a huge and funny yellow lab named Mister Buddy, who is a pretty shrewd judge of character and a dynamic leader of the pack in his own right. You won't want to miss his words of wisdom on life and leadership, and on how to manage those unpredictable, and sometimes unruly, characters known as humans.
Finalist - Management & Leadership 2019 Best Book Awards
Finalist - Animal/Pets: Narrative Non-Fiction 2019 Best Book Awards
Watch this video for an exclusive interview with author Peter Darcy!
Payment & Security
Your payment information is processed securely. We do not store credit card details nor have access to your credit card information.