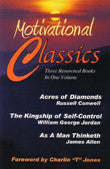 Description
Acres of Diamonds, by Russell Conwell
The Kingship of Self-Control, by William George Jordan
As a Man Thinketh, by James Allen
Motivational Classics contains a collection of three outstanding works that have been selected for the relevant principles and timeless impact they set forth.
Acres of Diamonds has a powerfully simple message which has helped millions of people recognize their potential for success. One of the most dynamic motivators of all time, Temple University founder Russell Conwell, promises if you will respond genuinely to the needs of humanity, you can find self-fulfillment in your own backyard.
The Kingship of Self-Control, by William George Jordan, is a book that will lead you expertly along the road of personal triumph by pointing the way to ultimate growth and happiness through self-discipline.
As a Man Thinketh will inspire you to make your ideals become your reality. You are what you think is the basis of this simple and profound message by James Allen that has impacted generations of readers.
Payment & Security
Your payment information is processed securely. We do not store credit card details nor have access to your credit card information.