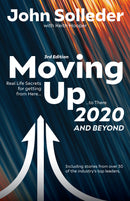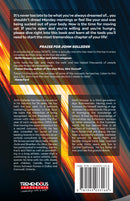 Description
This 3rd and final edition is a must-have for anyone interested or involved in direct sales. 
Este título está en inglés. Para español, haga clic aquí.
It's never too late to be what you've always dreamed of... you shouldn't dread Monday mornings or feel like your soul was being sucked out of your body. Now is the time for moving up! If you're open and you're willing and you're hungry, please dive right into this book and learn all the tools you'll need to start the most tremendous chapter of your life!
Author, John Solleder, as been a top earner in his industry for 36 years. He has held the top rank in 4 network marketing companies at that time. He holds the distinction of being recognized as the President's Cup winner with one company the first year of such recognition (1992) and then having the same distinction for a second company (2010). He has also consulted for some of the leading brands in the industry as an outside consultant. John spends his time with his wife, Josee, and children, Camille, Fred, and Grace between homes in Dallas and Cornwall, Ontario.
For international orders, or large quantities, please reach out via our contact form for available discounts and pricing. Please include shipping address and quantity desired.
Payment & Security
Your payment information is processed securely. We do not store credit card details nor have access to your credit card information.