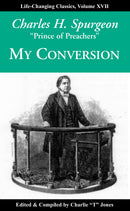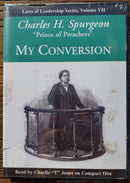 Description
Charles Spurgeon was known as the "Prince of Preachers" for good reason; he spoke to his own congregation each week in addition to up to 10 speaking engagements a week, managing and organizing a slew of local orphanages, and all while keeping in touch with the spiritual needs of his own flock. In this small book, Charles lays out the moment of his conversion to faith beginning with a moment as follows, "I am inclined to believe that I had heard the gospel fully preached many hundreds of times before and that this was the difference, - that I then heard it as though I heard it not; and when I did hear it, the message may not have been any more clear in itself than it had been at former times, but the power of the Holy Spirit was present to open my ear, and to guide the message to my heart: "LOOK UNTO ME, and be ye saved, all the ends of the earth; As Moses lifted up the serpent in the wilderness, even so must the Son of man be lifted up: that whosoever believeth in Him should not perish, but have everlasting life"; yet I had no intelligent idea of what faith meant." After reading an elaboration by Charles Spurgeon of his conviction and conversion, you will enjoy the pleasure of reading a few of Spurgeon's devotionals, hand-selected by Charlie "Tremendous" Jones.
Edited and Compiled by Charlie "T." Jones
Charles Spurgeon's classic account of his coming to understand the plan of salvation, now available in our popular Laws of Leadership series!
If you are ordering the PDF ebook, note that it is readable on any device that supports the PDF format. After checking out, you will receive an email with instructions for downloading your ebook. Adobe Reader software may be downloaded for free AT THIS SITE.
Payment & Security
Your payment information is processed securely. We do not store credit card details nor have access to your credit card information.