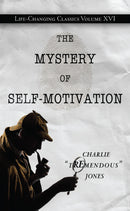 Description
There are no barriers you can't overcome if you are learning to be motivated.
At long last, legendary speaker and author Charlie "Tremendous" Jones gathers the evidence and sorts the clues, solving one of life's greatest puzzles. If you're ready to blow the lid off of your potential, and have a great time doing it, then prepare yourself. The solution is right here in The Mystery of Self-Motivation!
If you are ordering the PDF ebook, note that it is readable on any device that supports the PDF format. After checking out, you will receive an email with instructions for downloading your ebook.

Adobe Reader software may be downloaded for free AT THIS SITE.
Payment & Security
Your payment information is processed securely. We do not store credit card details nor have access to your credit card information.