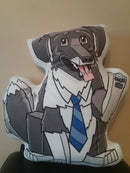 Description
Indigo Jones (a.k.a. Boxcar Indy) is a character based on Tracey's real-life dog, Indigo. In Pawsitive Purrsonality Plus, Indy represents the personality trait of Extraversion (not to be confused with extroversion). His story encompasses his achievements in going from a shy and scared pup - to one who is encouraging and social. Now, he uses it to teach all ages how to look on the sunny side of life!
This pillow pet of Indigo Jones is made from a plush fabric, made in America, printed on both sides, 18 in. tall, and is best cleaned by spot cleaning or wash in a gentle cycle and tumble dry.
Payment & Security
Your payment information is processed securely. We do not store credit card details nor have access to your credit card information.