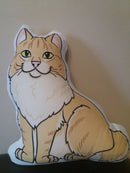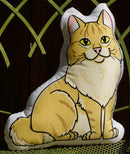 Description
Professor Orange is a character based on Tracey's real-life cat, Prince William. In Pawsitive Purrsonality Plus, Professor Orange is the guide for the personality traits. His story encompasses his achievements in feeling confident and encouraging others to begin changes so that they too can harness a pawsitive purrsonality. He uses it to teach all ages how wonderful interacting with others can be, and how friends can be made from those you never thought possible!
This pillow pet of Professor Orange is made from a plush fabric, made in America, printed on both sides, 18 in. tall, and is best cleaned by spot cleaning or wash in a gentle cycle and tumble dry.
Payment & Security
Your payment information is processed securely. We do not store credit card details nor have access to your credit card information.