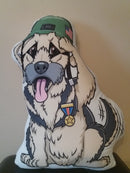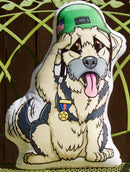 Description
Soldier Roscoe is a character based on Tracey's real-life dog, Roscoe the Rascal. In Pawsitive Purrsonality Plus, Roscoe represents the personality trait of Conscientiousness (Obedience). His story encompasses his achievements in going from naughty and unruly - to becoming a rule follower and a leader. Now, he uses it to teach all ages obedience and thorough job completion with determination, reliability, and persistence!
This pillow pet of Soldier Roscoe is made from a plush fabric, made in America, printed on both sides, 18 in. tall, and is best cleaned by spot cleaning or wash in a gentle cycle and tumble dry.
Payment & Security
Your payment information is processed securely. We do not store credit card details nor have access to your credit card information.