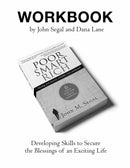 Description
This Workbook coincides with John M. Segal's impactful book Poor Smart Rich.
Do you want to be poor all of your life?
If you feel like you've lost the economic race before you've even started it, John M. Segal has some good news for you. You can avoid poverty. You can succeed financially, professionally, personally, and spiritually.
Whether you're just starting out or you've been struggling on your own for a few years, this author, teacher, and entrepreneur will lead you down the road from Poor to Smart to Rich!
About Author John M. Segal: Overcoming early learning problems, John M. Segal graduated from Indiana University with a Bachelor's degree in Business Administration and a Juris Doctorate in Law.  He served on active duty in the United States Army.  In addition to a professional career as owner of a leading international manufacturing and service business, Segal was a board member and chairman of the National Fatherhood Initiative (NFI) for 18 years.  As a member of Young Presidents Organization, he developed and taught classes on how to write personal life goals.  John currently teaches classes on law and business to joint graduate degree (Law-MBA) students at Indiana University.  John and his wife Sara, live in Indiana, where they have been active in Young Life. 
Payment & Security
Your payment information is processed securely. We do not store credit card details nor have access to your credit card information.