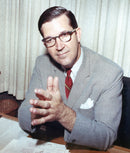 Description
In these discs, Mr. Jones talks about how - to him - leadership is the most misunderstood, misrepresented word in our vocabulary. He speaks about acting and how he learned to quit acting and start being, in the Price of Leadership.
The late Charlie "Tremendous" Jones was a publisher, motivator, and humorist who gained a reputation as one of the most dynamic and funniest speakers in the country.
Payment & Security
Your payment information is processed securely. We do not store credit card details nor have access to your credit card information.