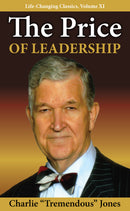 Description
Charlie "Tremendous" Jones delivered his speech "The Price of Leadership" hundreds of times. Those with leadership experience are quick to acknowledge the challenges each individual must face as a leader, including loneliness, weariness, abandonment, and vision. The speech originated when Charlie was fresh from the trenches of the life insurance sales industry, one he loved and knew had produced some of the greatest salesmen. Read the Price of Leadership to be encouraged as a leader regardless of the challenge you are currently standing in front of, and learn the tangible steps you can take to keep moving forward while you pay The Price of Leadership.
Foreword by Tracey C. Jones
The late Charlie "Tremendous" Jones was a publisher, motivator, and humorist who gained a reputation as one of the country's most dynamic and funniest speakers.
Millions have enjoyed The Price of Leadership at conventions and on audio recordings. Now, you can relive this tremendous classic in book format and experience the same nonstop laughter as you encounter this great humanitarian's ideas about life's most challenging situations in business and at home.
If you are ordering the PDF ebook, note that it is readable on any device that supports the PDF format. After checking out, you will receive an email with instructions for downloading your ebook. Adobe Reader software may be downloaded for free AT THIS SITE.
Payment & Security
Your payment information is processed securely. We do not store credit card details nor have access to your credit card information.