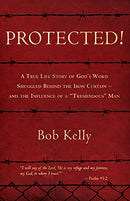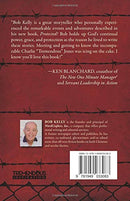 Description
Bob Kelly shares the start 
of his business career that seemed safe and simple 
enough but would unexpectedly turn dangerous. You'll 
read about his brief and unsuccessful "career" in life insurance, 
sandwiched between twenty years as a banker and 
two years in the Bible-smuggling world—a world hidden 
behind what was figuratively—and accurately—described 
as an "Iron Curtain."
"Bob Kelly is a great storyteller who personally experienced the remarkable events and adventures in his new book, Protected! Bob holds up God's continual power, grace, and protection as the reason he lived to write these stories. Meeting and getting to know the incomparable Charlie "Tremendous" Jones was icing on the cake. I know you'll love this book!"
~ Ken Blanchard, coauthor of The New One Minute Manager® and Servant Leadership in Action

"This amazing book of true stories is a must-read for anyone needing encouragement and a renewed conviction that 'whoever dwells in the shelter of the Most High will rest in the shadow of the Almighty.'"
~ John Pearson, past president of Christian Management Association and Willow Creek Association

"…a must read for anyone needing a reminder of God's provision and protection. Bob's reflections on his friend Charlie 'Tremendous' Jones are both touching and insightful. This book will touch your heart and bless your soul."
~ Les Taylor, CEO, Outperformers International

"This book is tantalizing adventure, sober personal revelation, perseverance, and encouragement to all who love the Lord. I'm inspired by how his profession of the gospel is in fact, 'not only impressive, but amiable and inviting.'"
~ Don Thoren, past president, National Speakers Association and member, Speaker Hall of Fame
Payment & Security
Your payment information is processed securely. We do not store credit card details nor have access to your credit card information.