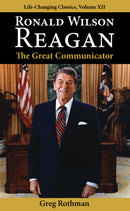 Description
Ronald Reagan, "the Great Communicator," was one of the most popular presidents in our nation's history. His efforts not only led to peace and prosperity, but he also restored pride in America and exported freedom and democracy around the world. During his presidency, Reagan often spoke of America as a "shining city on the hill"—a biblical reference. His unbridled optimism and unwavering belief in American ideals led the nation out of economic malaise and into the greatest peacetime economic expansion in history. This great American believed in the American Dream because his life was proof of its existence.
Ronald Wilson Reagan: The Great Communicator is a brief yet compelling biography by Greg Rothman that unveils the human being behind the man who magnificently played the role of leader of the free world.
"Whatever else history may say about me when I'm gone, I hope it will record that I appealed to your best hopes, not your worst fears; to your confidence rather than your doubts. My dream is that you will travel the road ahead with liberty's lamp guiding your steps and opportunity's arm steadying your way."
—Ronald Wilson Reagan
If you are ordering the PDF ebook or audiobook, note that it is readable on any device that supports the PDF format or audiobook format. After checking out, you will receive an email with instructions for downloading your purchase.

Adobe Reader software may be downloaded for free AT THIS SITE.
Payment & Security
Your payment information is processed securely. We do not store credit card details nor have access to your credit card information.