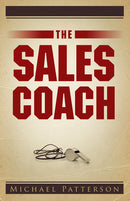 Description
Go the Distance With The Sales Coach!
Sally isn't sure she's on board with her company's new sales-oriented culture. She's in for a surprise when the Sales Coach appears in her office and shows her that the world of sales isn't at all what she expected it to be. Come along as Sally and the Sales Coach discover
How to use the Sales Compass to assess your customer's needs

How the ancient concepts of Ethos, Pathos, and Logos can help you win the trust of your clients  

How to discover your customer's hidden needs

How to sell with ease and confidence without ever going into "salesperson mode"

And much more!
Whether you're the receptionist or the CEO, this book teaches skills that will boost your career to the next level. Read it today and put The Sales Coach to work for you!
CLICK HERE TO LISTEN TO MICHAEL PATTERSON ON TREMENDOUS LIFE RADIO!
Payment & Security
Your payment information is processed securely. We do not store credit card details nor have access to your credit card information.