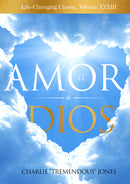 Description
EL PRECIO INCLUYE 100 COPIAS !!
HAGA SU PEDIDO AHORA Y RECIBA UNA COPIA GRATIS DE NUESTRO MÁS RECIENTE LANZAMIENTO DE CHARLIE "TREMENDOUS" JONES TITULADO, EL AMOR DE DIOS!
EN ESTE CLÁSICO MÁS NUEVO QUE CAMBIA VIDAS, LEERÁS SOBRE CÓMO TREMENDOUS SURGIÓ LA IDEA PARA LA PÓLIZA DE SEGURO DE VIDA ETERNO.
Utilizada durante muchos años por Charlie "Tremendous" Jones, La póliza de seguro de vida eterna es un folleto cristiano sobresaliente que presenta el plan de salvación en forma de póliza de seguro de vida.
Como nuevo creyente de Jesucristo, trabajando como vendedor de seguros, tenía más sentido para Charlie "Tremendous" Jones compartir las buenas nuevas de Jesucristo con otros a través de un lenguaje familiar. Inmediatamente se sentó a escribir este tremendo tratado ahora disponible en paquetes de 100.
Payment & Security
Your payment information is processed securely. We do not store credit card details nor have access to your credit card information.