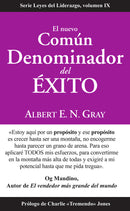 Description
 "This common denominator of success is so big, so powerful, and so vitally important to your future and mine that I'm not going to make a speech about it. I'm just going to 'lay it on the line' in words of one syllable, so simple that everyone can understand them. We now have this translated into SPANISH!

E ste común denominador del éxito es tan grande, tan fuerte y tan importante
para su futuro y el mío que no haré un discurso al respecto. Me limitaré a decirlo
directamente, en palabras de una sílaba, para que sea tan fácil que todos puedan entenderlo. El común denominador del éxito, el secreto del éxito de cada persona que alguna vez alcanzó el éxito, consiste en que esa persona desarrolló el hábito de hacer cosas que quienes fracasan no quieren hacer. Esta es la simple verdad, así como suena. Puede analizarlo con una lupa, puede someterlo a una prueba de ácido, y puede darle mil vueltas hasta el cansancio, pero a fin de cuentas este seguirá siendo el común denominador del éxito, le guste o no.
—Albert E. N. Gray
If you are looking for the English  version, you can find it here
Payment & Security
Your payment information is processed securely. We do not store credit card details nor have access to your credit card information.