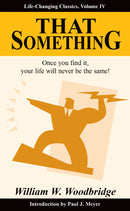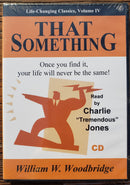 Description
William W. Woodbridge originally wrote That Something as a means of bringing success to and "performing miracles" in the lives of many men and women, and it became one of his most popular titles.
William Woodbridge's life-changing short stories gained widespread recognition from many of the prominent leaders and dignitaries of his time. Thomas Edison remarked, "I have read That Something. It tells the whole story." And Emerson Harrington said, "It is a message that ought to go out to all men everywhere."
Paul J. Meyer, the author and pioneer of the self-improvement industry whose programs have sold more than two billion dollars worldwide, attributes much of his success to his ability to harness William Woodbridge's That Something and make it work for him.
"That Something is real power as truly as the electric current. It is the power of the inner being, the fuel of the soul machine. It is the one thing necessary.
"The success of people everywhere depends alone on awakening That Something of their soul."
If you are ordering the PDF ebook, note that it is readable on any device that supports the PDF format. After checking out, you will receive an email with instructions for downloading your ebook. Adobe Reader software may be downloaded for free AT THIS SITE.
Payment & Security
Your payment information is processed securely. We do not store credit card details nor have access to your credit card information.