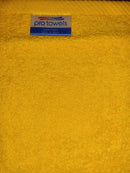 Description
A SPARK original! P is for Persistence!
When you feel like throwing in the towel, grab the Tremendous Towel!
Don't feel Terrible, be Tremendous! Guaranteed to help improve your mental attitude which will directly impact your golf game in a positive way! Take to the gym and watch your workouts soar to new heights!!

The Tremendous golf towel is made of plush material. 11" by 18" with grommet and hook included. SPARK hardcover and paperback sold separately.
Payment & Security
Your payment information is processed securely. We do not store credit card details nor have access to your credit card information.