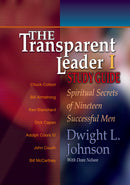 Description
Leadership comes with a high price tag for many men.

TOO HIGH.
But for the man who knows the costs of leadership and prepares himself for the challenges he faces, the rewards can be great.
In The Transparent Leader I Study Guide, businessman Dwight Johnson invites you to glean wisdom from 19 prominent men, some of whom learned their lessons the hard way as they faced and triumphed over problems such as family stress, moral failure, business reverses, spiritual bankruptcy.
These men emerged from their struggles as stronger, better leaders — and so can any man who is willing to be open and transparent in his leadership role.
Payment & Security
Your payment information is processed securely. We do not store credit card details nor have access to your credit card information.