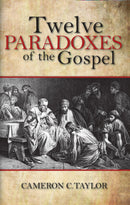 Description
The gospel of Jesus Christ is filled with paradoxes. Many of God's directions seem to be contrary to logic and reason. On the surface, they appear to have the opposite effect of the promised result. This book explores twelve of these gospel paradoxes with powerful scriptures and stories from the lives of faith-filled Christians.


The Paradox of Faith contains insight on faith from the Apostle Peter's experience walking on water with Jesus.
From The Paradox of Performance you will learn why the first shall be last, and the last shall be first.
In The Paradox of Leadership you will read inspiring stories of servant leadership from the life of Jesus Christ, Abraham Lincoln, and the Founding Fathers.
The Paradox of Wisdom contains three lessons learned from Balaam's talking donkey found in the book of numbers.
The Paradox of Receiving contains insights on prayer and receiving gifts from God.
The Paradox of Pain answers the question of why bad things happen to good people.
The Paradox of Forgiveness contains great stories from the life of Leonardo Da Vinci and others on the power of forgiveness.
The Paradox of Wealth teaches principles every parent must know to raise productive, self-sufficient children and grandchildren.
The Paradox of Giving shows how giving actually makes you richer.
The Paradox of Fundamentals teaches how to apply in your life the formula legendary coach John Wooden used to create ten national championship teams in twelve years.

"Cameron Taylor's book Twelve Paradoxes of the Gospel blends familiar Bible stories with thought-provoking reflections and principles you can use today."
Ken Blanchard, Coauthor of The One Minute Manager® and Lead Like Jesus
Payment & Security
Your payment information is processed securely. We do not store credit card details nor have access to your credit card information.