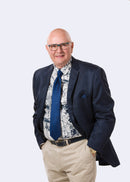 Description
Nearly drowning, a man is given the opportunity to revisit his past, learning how it can help him and others.
Everyone has their personal story. Some people's stories may appear to be pretty mundane, while other stories are near unbelievable and one wonders how the person lived to tell their tale! Others have been blessed to have an interesting life, wide and varied like the fictional television commercial character of Jonathan Goldsmith. You might know him from the Mexican Dos Equis beer commercials as "The most interesting man in the world." The experiences in my life have frequently left me feeling blessed, privileged, desperate, and sometimes cursed, and sometimes these feelings were all evident in the same situation.
I have heard it said about me more than once, that my life is like that of a cat with nine lives. I seem to always have landed on my feet time and time again after failure—just like a cat with its built-in twisting reaction to constantly land upright. Oh, sometimes it would take a little longer to get back on my feet, but eventually, God would motivate me and give me another ride of my life! I had a knack to make things work no matter how little experience or knowledge I had going in. I'm sure it was a God thing!
Along the way, I gained a lot of knowledge from my mistakes. I wanted to share these experiences—whether they were good or bad—hoping they'll be able to help others in their journey through life.
Maybe, you can relate to one or more of my exploits and learn that bad decisions, false beliefs, or failures do not necessarily bring forth "the end of the world," but there are consequences. We may fail, but if you learn from the failure, resolve to do better the next time, and grab your bootstraps and try again—with God's help you can regain your footing and have a life of success.
Payment & Security
Your payment information is processed securely. We do not store credit card details nor have access to your credit card information.