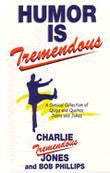 Description
This is a fun-filled collection of clean jokes disigned for speakers, teachers, pastors, businessmen, masters of ceremonies, and everyone who likes to laugh.
Nationally known author and motivational speaker Charlie "Tremendous" Jones and best selling humorist Bob Phillips combine their talents to present this priceless collection of jokes, anecdotes, puns, wisecracks, quotations, and tall stories, all arranged in alphabetical headings for quick and easy reference.
If you have read this far, don't stop now. Order this wholesome humor that will add laughter to your dinner table at home, lift the spirits of fellow workers, and bring a smile to your audience.
Payment & Security
Your payment information is processed securely. We do not store credit card details nor have access to your credit card information.