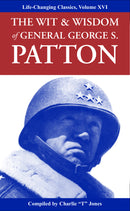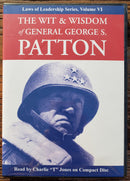 Description
The wit and wisdom of one of our greatest military leaders in a compact, highly readable edition!
TABLE OF CONTENTS
Introduction
Soldier's Testament
Patton's Letter to His Son on D-Day
Patton on Leadership
Patton on God & the Bible
Patton on Conviction & Decision
Patton on Courage & Fear
Patton on Discipline
Patton on Health
Patton on Success
Letters by George S. Patton
"I don't know what a Philadelphia lawyer might say, but I know what I mean by Country. It is the Constitution! 'Just the greatest document ever written by man' according to an English Prime Minister. Do you know why we serve the Constitution? Simple! Recall what you said when you got your first commission or got a promotion. You take an oath to God 'to support the Constitution against all enemies foreign and domestic.' We are fighting for our great Constitution. We are not fighting for any man, president, senator, congressman nor potentate. This is what I mean by Country."
-General George S. Patton
If you are ordering the PDF ebook, note that it is readable on any device that supports the PDF format. After checking out, you will receive an email with instructions for downloading your ebook. Adobe Reader software may be downloaded for free AT THIS SITE.
Payment & Security
Your payment information is processed securely. We do not store credit card details nor have access to your credit card information.