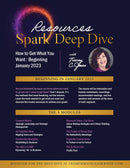 Description
HOW TO GET WHAT YOU WANT:
THE MEANS TO THE END

Do you feel frustrated--like a slingshot that keeps getting pulled backward when all you want to do is launch?
 EIGHT MODULES - ONLINE ZOOM INTERACTIVE
APPLICATION EXERCISES
TWO BOOKS
GUEST SPEAKERS
RECORDED FOR REPLAYS
Tuesday/Thursday 7:30 pm to 8:30 pm EST 
RESOURCES: RECALIBRATE YOUR SUPPLIES
Can you see where you want to go, but lack the means to get there? Are you able to accurately assess what's needed to move forward and what's holding you back that you need to eject? This course is all about discovering the Resources you need to get the job done right. As we learned in the previous chapter, none of us are meant to go it alone. Community is a core keystone habit and once you have identified the right people, processes, and provisions, you'll be on your way!
Payment & Security
Your payment information is processed securely. We do not store credit card details nor have access to your credit card information.