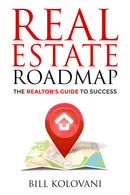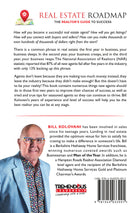 Description
How will you become a successful real estate agent? How will you get listings? How will you connect with buyers and sellers? How can you make thousands or even hundreds of thousands of dollars right from the start?
There is a common phrase in real estate: the first year in business, your business sleeps. In the second year, your business creeps, and in the third year, your business reaps. The National Association of Realtors (NAR) statistic reported that 87% of all new agents fail after five years in the industry, with only 13% backing up this phrase.
Agents don't leave because they are making too much money; instead, they leave the industry because they didn't make enough! But this doesn't have to be your reality! This book contains numerous things new agents should do in those first two years to improve their chances of success, as well as tried and true tips for seasoned agents so they can continue to thrive. Bill Kolovani's years of experience and level of success will help you be the best realtor you can be at any stage.
Bill Kolovani has been involved in sales since his teenage years. Landing in real estate provided the optimum venue for him to satisfy his craving to make a difference in someone's life. Bill is a Berkshire Hathaway Services franchisee, winning numerous coveted awards such as Businessman and Man of the Year. In addition, he is a Hampton Roads Realtor Association Diamond level agent and the recipient of the Berkshire Hathaway Home Services Gold and Platinum Chairman's Awards.
Purchase a paperback copy HERE at Amazon
Please note that this is a PDF ebook that is readable on any device that supports the PDF format. After checking out, you will receive an email with instructions for downloading your ebook.
Adobe Reader software may be downloaded for free at this site.
Payment & Security
Your payment information is processed securely. We do not store credit card details nor have access to your credit card information.