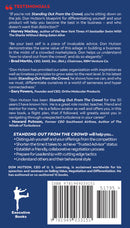 Description
Nobody can be you!
Whether you are a sales representative for a manufacturer, an internet marketer, or a retail entrepreneur, your industry or specialized space does not need another "Me Too" performer. Whatever you do, try to be the best in your business! This book is structured to provide a separate track to run on that will distinguish you from others in today's crowded marketplace.
The Latin term, "Sui Generis", means 'one of a kind'. That's what you need to be in your business – a one-off, innovative problem solver, who has developed a reputation for being exceptional. Can you become so good that you can make your competition irrelevant? I think you can and I want to help.
Nobody can be you! Nobody else on the planet is just like you. We all need to recognize the power of individuality and leverage the skills we have amassed to be exceptional. For some, individuality is the most outstanding asset possessed. We should develop uniqueness in every manner to be able to impress people with our attention to detail, relevance, and the means by which we tailor and deliver solutions. If we can do those things well, we are destined to gain market share and amass wealth in the process.
This book is divided into five parts to give a broad perspective on how you can be perceived as different from—
and superior to,—your competition. Your image of yourself, your product, or your company is not a constant; it is
an ever-changing variable. Over time we need to make as many positive deposits in our "Reputation Bank" as possible, by delivering exceptional products, differentiated offerings, or "knock-their-socks off" service!
This 5-part, 34-chapter book is based on many years of personal research. In an effort to make it more rewarding, I have added references to videos that will help reinforce the points I am making. As you read, you will notice links to these short video clips. Take time to review them and gain additional ideas on the implementation of skills discussed.
In Standing Out From The Crowd, do not assume I want you to feel so special that you counterproductively create a huge ego for yourself. My old friend, Zig Ziglar, was right when he advised, "Don't contract the disease of Egomania – it makes everybody sick except the one who has got it!" Let's be adaptable to the needs of those we serve, and display humility in the process, and we will earn the right to be referred to by our clients as a "Trusted Advisor".
You will gain many ideas from this book. Carefully consider them and decide which to adopt as core competencies on your way to great success. I sincerely hope this book helps you significantly in crafting your path to becoming the unsurpassed, one of a kind, extraordinary producer who does indeed stand out from the crowd.
Payment & Security
Your payment information is processed securely. We do not store credit card details nor have access to your credit card information.