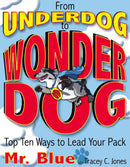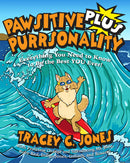 Description
For the little leaders in your life, we've put together a 4-Legged Leadership bundle that's sure to both delight and teach! The 4-Legged Leadership Bundle includes all four children's books by Tracey Jones tucked into an adorable, limited edition cotton bag perfect for holding all of these books and much more! Bring home the funny and furry antics of Indy, Roscoe, Blue, and Ruby this Christmas.
Boxcar Indy: A Square Dog in a Round World  - Boxcar Indy is different. Journey along with him as he discovers the value in using his gifts and embracing what makes him unique.
From Underdog to Wonderdog: Top 10 Ways to Lead Your Pack - Bring out the leader in the younger generation with this classic leadership book based on Blue's tried and tested leadership techniques.
Boxcar Indy Goes to Doggy World - In the second installment of the Boxcar Indy series, Indigo Jones learns all about saving money, setting goals and even the art of delayed gratification. All with the goal of visiting the world-famous Doggy World!
No, No Roscoe - Roscoe is the new kid on the block and he has a lot to learn. This wonderful book is a fun and enjoyable way to introduce responsibility, obedience, rule following and personal accountability.
Pawsitive Purrsonality Plus - Your personality is going to be one of your biggest factors for your success and happiness in life! Learn how you can adapt your feelings, thoughts, and behaviors so you can be a great friend and a top-notch student. Your guide, Professor Orange, will introduce you to the Big Five Personality traits, the power of friendship, how to avoid stinkin' thinkin', why it's important to develop a pawsitive purrsonality, and the power of being a real superstar!
Payment & Security
Your payment information is processed securely. We do not store credit card details nor have access to your credit card information.