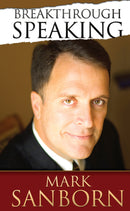 Description
For leaders, the ability to communicate well and speak persuasively is a critical skill. All professional speakers, myself included, can continue to improve their skills. To answer the questions I'm most frequently asked and share some of the insights I've learned from 25 years of professional speaking, I've written Breakthrough Speaking. 
Anyone with the courage to speak publicly can deliver a speech, but breakthrough speakers inspire listeners to take action. If you have a message to deliver, one that you sincerely believe in, and your philosophy moves you to want to inspire and change people, the best way to reach them is by mastering Breakthrough Speaking!
Mark Sanborn, CSP, CPAE
 Click here to listen to Mark Sanborn on Tremendous Life Radio!
If you are ordering the PDF ebook, note that it is readable on any device that supports the PDF format. After checking out, you will receive an email with instructions for downloading your ebook.

Adobe Reader software may be downloaded for free AT THIS SITE.
Payment & Security
Your payment information is processed securely. We do not store credit card details nor have access to your credit card information.