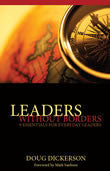 Description
Please note that this is a PDF ebook that is readable on any device that supports the PDF format. After checking out, you will receive an email with instructions for downloading your ebook.
Adobe Reader software may be downloaded for free at this site.

With a foreword by Mark Sanborn!
Whether you are the CEO of your business or serve elsewhere in the organizational structure, the boundaries of your leadership are limitless if you are devoted to developing your personal leadership skills. Leaders Without Borders will help you to embrace the challenge of personal leadership in order to expand the sphere of your influence.
In order to reach your potential as a leader, you will also be inspired to not only embrace your passion but identify it. Finding your one thing—your passion as a leader—is life-transforming. Leaders Without Borders will provide answers to help you in the discovery process of understanding what your passion is.
LISTEN TO DOUG DICKERSON ON TREMENDOUS LIFE RADIO!
Payment & Security
Your payment information is processed securely. We do not store credit card details nor have access to your credit card information.