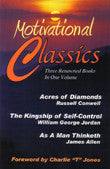 Description
Please note that this is a PDF ebook that is readable on any device that supports the PDF format. After checking out, you will receive an email with instructions for downloading your ebook.
Adobe Reader software may be downloaded for free at this site.

Acres of Diamonds, by Russell Conwell
The Kingship of Self-Control, by William George Jordan
As a Man Thinketh, by James Allen
Motivational Classics contains a collection of three outstanding works that have been selected for the relevant principles and timeless impact they set forth.
Acres of Diamonds has a powerfully simple message which has helped millions of people recognize their potential for success. One of the most dynamic motivators of all time, Temple University founder Russell Conwell, promises if you will respond genuinely to the needs of humanity, you can find self-fulfillment "in your own backyard."
The Kingship of Self-Control, by William George Jordan, is a book that will lead you expertly along the road of personal triumph by pointing the way to ultimate growth and happiness through self-discipline.
As a Man Thinketh will inspire you to make your ideals become your reality. You are what you think is the basis of this simple and profound message by James Allen that has impacted generations of readers.
Book Review by Coy Eklund, Former Chairman, Equitable Life Assurance Society
 The name of a book that has meant something special to me over the years is one by James Allen, titled As a Man Thinketh. It is a tiny book, but one that is full of the kind of thinking and philosophy that have had a deep meaning to me. For example, "A man is what he thinks about all day long." It also puts things in verse so they become indelibly fixed in your memory.
Book Review by Robert Conklin, CPAE
I had spent most of my life in a classroom with only a few short years in the sales world when a wondrous little book came into my hands. At the time, I was a newly appointed sales manager anxiously searching for the hidden formulas that would turn my sales dwarfs into giants. The way, I discovered, to succeed in selling or in any of lifes endeavors, is so obvious it is almost lost in complete oblivion. James Allen expressed it simply and beautifully in As a Man Thinketh. Life is an extension of thought. One will not only experience what one thinks, but it will form "the outer garment of circumstances."
Allen likens the mind to a garden. What is planted will infallibly be grown into the condition of life. The soil does not care whether the seeds are weeds or flowers. I will render whatever is planted. So it is with the mind. Positive thoughts will furnich positive results, negative thoughts will furnish negative results. How can any fault be found with words as wondrously meaningful as these: "Man reveals, within himself, the laws of thought, and understands, with ever-increasing accuracy, how the thought-forces and mind-elements operate in the shaping of his character, circumstances, and destiny."
Payment & Security
Your payment information is processed securely. We do not store credit card details nor have access to your credit card information.