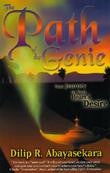 Description
Please note that this is a PDF ebook that is readable on any device that supports the PDF format. After checking out, you will receive an email with instructions for downloading your ebook.
Adobe Reader software may be downloaded for free at this site.


The Path of the Genie is for the person who wants to live a life that is full of meaning, significance, and fulfillment. It is directed to individuals who want a sense of joy and power in who they are and what they do. It is for anyone who asks the question, "Isn't there more to life than this?"
Based on truths derived from the story of Aladdin, The Path of the Genie extracts powerful examples for living from pivotal points in Aladdin's story. You will discover the keys to getting rid of negative forces along with the transforming powers of humility, self-discovery, and self-offering.
Whatever your heart's desire, The Path of the Genie is your roadmap to personal fulfillment.
Payment & Security
Your payment information is processed securely. We do not store credit card details nor have access to your credit card information.