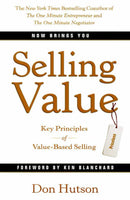 Description
 CLICK HERE TO READ A SAMPLE CHAPTER
  FROM DON HUTSON, THE NEW YORK TIMES BESTSELLING COAUTHOR OF THE ONE MINUTE ENTREPRENEUR AND THE ONE MINUTE NEGOTIATOR
We've all heard that in today's marketplace people do business with those they know, like and trust. That means something different today than it did only a few years ago when competition was not as keen and the sales challenges were not quite as stringent as they are today. In Selling Value, we talk about what we need to do to be exceptional at such tasks as: 
Performing an exceptional needs analysis

Identifying how your prospect defines value

Keeping your Head Game intact for maximum performance

Learning the skills of active listening

Gaining commitments without pressure

Understanding the differences in people

Mastering adaptability skills

Handling customer concerns

Asking Questions with great expertise

Creating exceptional solutions for clients

Learning how to creatively differentiate your offerings

Prosper through earning loyalty
Read Selling Value today and let Don Hutson show you the way to the next level of success!
Please note that if you purchase the PDF ebook, EPUB, or Mobi version, you are purchasing a digital copy. After checking out, you will receive an email with instructions for downloading your purchase.

Adobe Reader software may be downloaded for free AT THIS SITE.
Payment & Security
Your payment information is processed securely. We do not store credit card details nor have access to your credit card information.