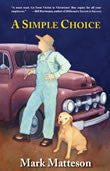 Description
Please note that this is a PDF ebook that is readable on any device that supports the PDF format. After checking out, you will receive an email with instructions for downloading your ebook.
Adobe Reader software may be downloaded for free at this site.

Mike Johnson was a self-made man. He had worked his way up from the bottom to build a company he could be proud of. Winning was the name of the game, and Mike was good at it. A fierce competitor and hard-working businessman, he had high hopes and big dreams, and then . . . tragedy struck. He lost everything that was important to him: his family, his health, his business. What's next? His own life?
Franklin Robinson was an 83-year-old parts deliveryman in coveralls and an old straw hat. Driving an old '52 Ford pickup, his dog Socrates by his side, Franklin teaches Mike the true meaning of business and life. He explains, "I'm just a parts driver. I deliver what people need when they need it, whether they realize it or not. Sometimes I deliver things people don't order and provide them with what they don't expect. I try to make a difference in people's lives."
Along the way Mike learns how to attract, retain, and build the greatest asset in business—people!
A Simple Choice is a tale of grief, redemption, and hope, in which one man learns what really matters in life and business. From the most unlikely source,he learns the meaning of "Servant Leadership."
Payment & Security
Your payment information is processed securely. We do not store credit card details nor have access to your credit card information.