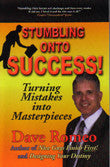 Description
Please note that this is a PDF ebook that is readable on any device that supports the PDF format. After checking out, you will receive an email with instructions for downloading your ebook.
Adobe Reader software may be downloaded for free at this site.
What do you do when your past collides into your present?
Nineteen years after a devastatingly painful breakup, the unthinkable happens. The person you once thought you were meant to spend your entire life with re-emerges from out of nowhere. Yet, from this unexpected turn of events comes the most powerful discovery of a lifetime. As a result, and completely by accident, many of life's greatest lessons are revealed, explained and understood. In his latest book, Dave Romeo challenges you to also stumble onto success by following these simple lessons:
Coming to Terms with the Way Things were Supposed to Be

How to Fight Back Against the Dumbing Down of America

Four Little Words That Will Challenge You

How to Set and Achieve Any Goal

Change Your Life with One Powerful Question

Take Control of Your Finances

Capture and Collect Little Pieces of Paradise

Developing Accidental Brilliance

Likability Counts!

Two Simple Steps to Guarantee Success in Every Job

The Best Things in Life Are Free
Payment & Security
Your payment information is processed securely. We do not store credit card details nor have access to your credit card information.